ACE Factories: humAn CEntred Factories Cluster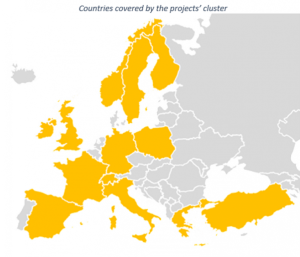 ACE Factories: humAn CEntred Factories Cluster is a networking Cluster of five FoF-4 projects funded under the European Union's Horizon 2020 research and innovation programme – A4BLUE, Factory2Fit, HUMAN, INCLUSIVE, and MANUWORK. Based on the common goals they are working towards, the cluster is a forum for sharing projects' knowledge, progress, and results. Those projects are developing solutions for manufacturing work environments that adapt to each individual worker. By combining their efforts, the projects hope to achieve greater impact and wider adoption of these new developments in advanced manufacturing systems.
The vision and mission
Smart and connected technologies are not only transforming how parts and products are designed, produced, used, and maintained, but also workplaces and workers, transforming organisations themselves in human-centred factories. Consequently, now, by introducing new technologies, industrial work is increasingly mediated; i.e. the work is not related to the physical objects but to their counterparts in the virtual world. But people remain central to operations. In the past, people were expected to adapt to machine requirements. Now, automation systems are being developed that can recognise the users, remember their capabilities, skills and preferences, and adapt accordingly. Adaptation can also make work organisation more flexible so that individual preferences are taken into account in task distribution. New automation approaches, with workers at the centre, will complement people's capabilities and ensure higher performance, adaptability and quality.
Humans and automation are therefore taking advantage of each other's strengths, having a symbiotic relationship for enhancing capabilities, skills and quality of their work. The result is more flexible, inclusive and safe workplaces, as well as better work conditions and increased productivity and improved quality. But, above all, this means increased worker satisfaction and work well-being, more empowered and engaged workers and increased interest towards factory work as a career, attracting young talented people.
On the June 27th, 2018, The ACE Factories Cluster has been officially presented during the Factories of the Future Community Day, Brussels, illustrating the vision and the development paths. See the presentation given by Factory2Fit Coordinator Dr. Eija Kaasinen at this link.
To learn more about the ACE Factories Cluster, joint activities and the projects involved, please visit http://ace-factories.eu/
On the 14th November 2018, ACE Factories cluster organized a webinar focused on worker satisfaction evaluation methods in manufacturing. Each project participating in ACE Factories presented how they approach this matter in the unique use cases that each project has. The presentation given by A4BLUE is available here.
Joint Press Release with FOF projects
ACE-Factories Newsletter- Issue 1
ACE Factories Newsletter- Issue 2